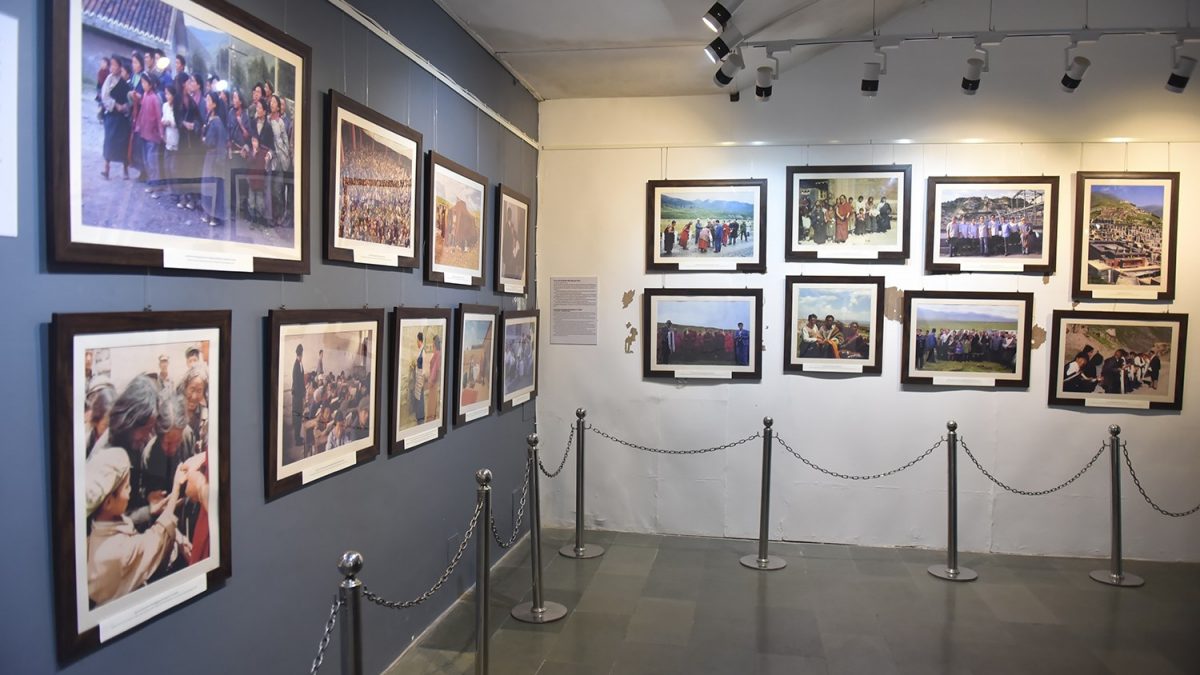 Pictures depicting account of four fact-finding delegation's visit to Tibet. Photo/Kalsang Dekyi/CTA.
After the death of Mao Zedong in 1976 and the subsequent end of the decade-long Cultural Revolution (1966-1977), Tibetan exile administration and the People's Republic of China (PRC) renewed direct contact for the first time since 1959. On the invitation of Deng Xiaoping, paramount leader of the PRC, Gyalo Thondup, the elder brother of His Holiness the Dalai Lama met Deng Xiaoping and officials of the United Front Work Department in Beijing in January 1979. At the meeting, Deng told Thondup that "apart from independence, all issues can be discussed".
This paved way for a series of delegations from Dharamshala representing His Holiness the Dalai Lama, to visit and see the prevailing conditions of Tibetans in Tibet.
In keeping with His Holiness the Dalai Lama's policy of non-violence and dialogue as the only means of resolving the issue of Tibet, His Holiness and the exile administration sincerely welcomed this change of attitude from the Chinese leadership.
As a result, the exile leadership dispatched four fact-finding delegations to Tibet between 1979 and 1985.
Chinese leadership in Beijing and Tibet were left baffled when the crowds besieged the delegates wherever they went and poured out stories of tragedies and suffering that had befallen them and their families over the past two decades. All four delegations reported complete obliteration of monasteries and religious edifices, wanton deforestation and mining, population transfer and dilution of Tibetan language, religion and culture.
In 1981, China put forward a "Five-Point Policy towards the Dalai Lama", where they proposed His Holiness the Dalai Lama could return to China and that His Holiness would be accorded the same political status and privileges as he enjoyed before 1959. However, it failed to acknowledge the need for any political negotiations on the issue of Tibet, thus reducing the issue of six million Tibetans to merely that of the personal status of the Dalai Lama.
All the four fact-finding delegations to Tibet (1979, 1980, 1980 and 1985) and the two exploratory talks in Beijing (1982 and 1984) explicitly conveyed to the authorities in Beijing that the issue of Tibet is not merely that of the personal status of His Holiness the Dalai Lama but the well-being of the six million Tibetans and proposed earnest political negotiations for the entire Tibetan people, comprising the three regions of Tibet: U-tsang, Kham and Amdo.
Since 2002, there have been 9 rounds of talks between the representatives of His Holiness the Dalai Lama and their Chinese counterparts. However, since the last round of talks in January 2010, the Chinese leadership has not responded to the exile administration's call for further dialogue to resolve the issue of Tibet.