The Tibet Awareness talk series program report: "In the time of rising Chinese power, remembering the brutality of Nangpa La pass is an important cautionary tale."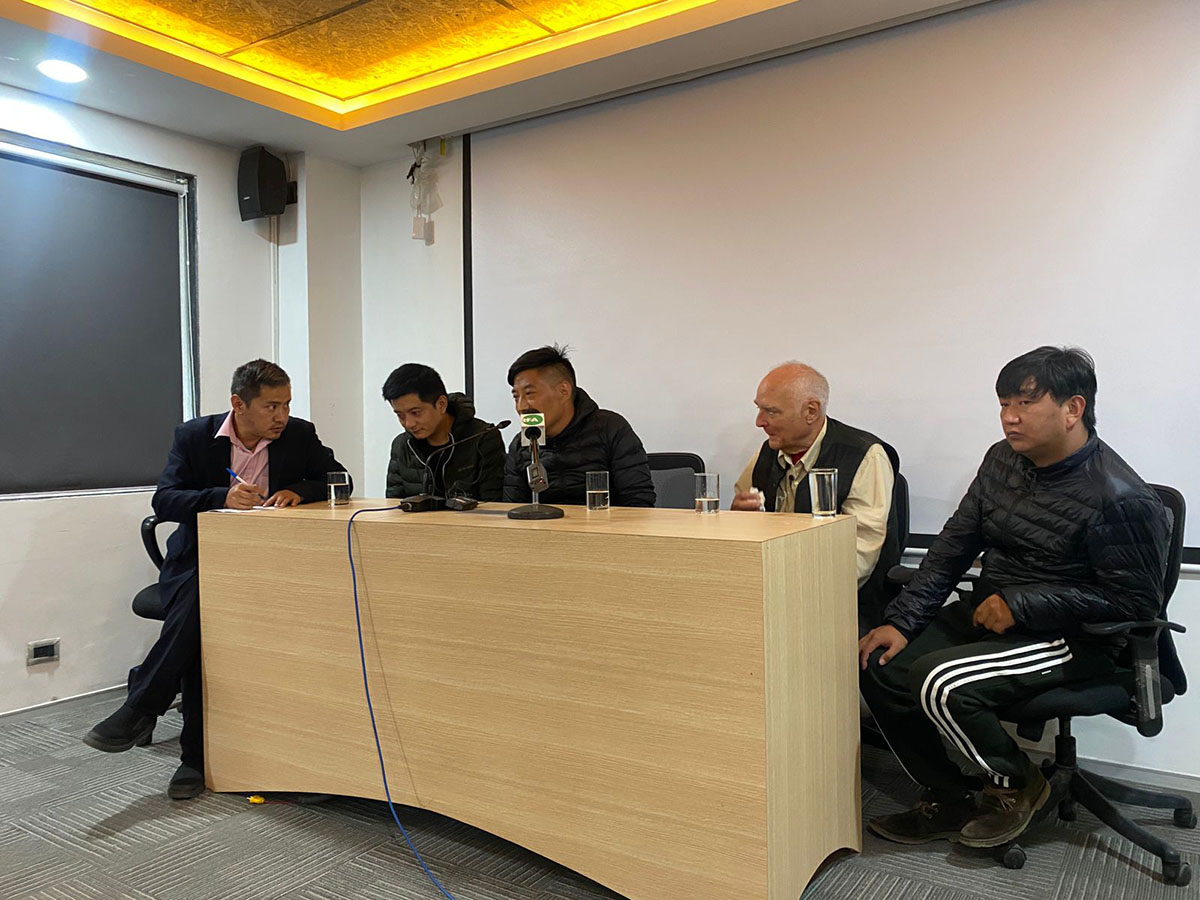 The speaker, Mr. Mark Gould, and three survivors of the Nangpa La Pass incident.
The Tibet Museum's Tibet Awareness Talk Series on Nangpa La Shooting Incident 
On 7 November 2022, the Tibet museum of the Central Tibetan Administration held the first Tibet awareness talk series of the month on the topic 'In the time of rising Chinese power, remembering the brutality of Nangpa La is an important cautionary tale'. The guest speaker Mr. Mark Gould, film maker of the 'Murder in Snow', along with three of the survivors of Nangpa la shooting : Gatso, Tsultrim and Jamyang Samten shared their personal experiences of the incident and the factors that culminated into their escape from Tibet. 
Prior to the panel discussion, a short clip of Kasur Samdhong Rinpoche was played where he iterated that 'Although this has not occurred for the first time, videographic documentation of such cases are rare and, therefore, it is an unmistakable evidence of brutality on the Tibetan people by the Communist Party of China'. It was followed by another brief video that contained a message from the best friend of late Kelsang Namtso, a 17 year old nun who was shot dead at Nangpa La.
The Nangpa La shooting incident occurred on 30 September 2006 when a group of 72 Tibetans attempting to flee Tibet via the Nangpa La pass were fired upon by Chinese border guards. The shooting resulted in one death and two severely injured. Sergiu Matei, a Romanian cameraman who was at the camp for a climbing expedition, captured the incident and managed to successfully smuggle the footage out of Tibet.  
Mark's film titled 'Murder in the Snow' is a part of the Tibet Museum's permanent exhibition and screened in the sixth section called escape. He shared his journey behind the making of this film beginning from curiosity, how he conducted research, forming a team, getting funded, and meeting the survivors in person. He also highlighted key factors behind the escaping of Tibetans from their homeland which includes Human rights violation, repressive policies of Communist party of China, cultural genocide and the doctored moves toward Sinicization of Tibet. As the narration continued, he got noticeably emotional and fell short of words to express his feelings.  
Mark admired the courage of Sergiu Matei for capturing the incident and bringing this footage to the world despite such risks and restrictions. He concluded his talk by quoting 'Some stories need to be told, retold and retold to retain it from getting lost.' 
Jamyang Samten, a young lad in his twenties was one of the Nangpa La shooting survivors. Before advancing to the climax of the escape story, he shared some of his early life experience in Tibet as a nomad, and how he used to collect Yartsagumbu (Caterpillar Fungus) to financially aid his family. His early encounters with Chinese brutality and repressive policies started from a very young age, of which he shared an anecdote from his school where he was badly beaten up by a Chinese teacher for having worn a necklace with the photograph of His Holiness. He said that there was a complete absence of freedom in Tibet whether it is learning in one's own language, practising religion or even freedom of speech, among others. After discussing with his family, he decided to escape from Tibet and successfully got in touch with a guide.
After several days of traveling in a sealed truck, he along with several other escapees started their journey towards freedom under the lead of two guides. Unfortunately, amidst the Nangpa La shooting, the Chinese border security arrested some of them including Jamyang. He was imprisoned for a week in Dingri jail and then moved to Shigatse prison for another two months where he was thoroughly interrogated and badly tortured. He was asked to identify the corpse of late Kelsang Namtso if he knew her or not, which he denied. However, after a couple of months of coming out from prison, once again he decided to escape through a different route and finally succeeded in crossing the border. He reached India in the year 2007 and was enrolled in TCV Suja, Himachal Pradesh, where he met with Gatso, his cellmate who was also caught during the Nangpa La shooting incident. According to him, that was the most emotional moment in his life. 
Gatso has a similar escape story with that of Jamyang. For him, the main purpose of escape is to learn and practice Tibetan language and culture without any restrictions. He said that Tibetans in Tibet are not treated like humans by the Chinese government. Everyday there is a sense of great danger and each day feels like another moment in prison. During the Nangpa La shooting incident, he was among the ones who got arrested and was incarcerated for a duration of a few months in Shigatse jail. On his second attempt to escape from Tibet, he followed the Dram route, same as Jamyang, where he had to walk several kilometres barefoot as his shoe got worn out. At last he successfully made the journey into freedom.
According to Tsultrim, having heard about the presence of Chinese border security at Nangpa La, the two groups of escapees got scattered. He said that there was a monk from Sera monastery in his group who had crossed the border earlier and had some knowledge about which direction to follow. They could only walk in the night and had to hide the whole day long, shortage of food and cases of frostbite and losing eyesight were surprisingly common. Especially avoiding the border securities, and to walk in knee deep snow, one could hardly think of saving others' lives. After crossing the Nangpa La, he learned about the death of Kelsang Namtso and two others who also got shot. Having successfully reached India, he got the opportunity to seek the audience of His Holiness and also got enrolled in Tibetan school. He said that in his initial days of reaching India, often he would get hesitant after seeing portraits of His Holiness hanging on the walls of  restaurants, shops, classrooms and different other public spaces as it is a severely punishable offense in Tibet.
After listening to the experiences of the three survivors, It can be said that the main reason for the Tibetans to escape from Tibet, leaving their families and friends behind, is to have an audience with His Holiness the 14th Dalia Lama and to seek his blessings, to study and practice the Tibetan language, culture and religion freely without any restrictions. As pointed by Jamyang Samten, Nangpa La shooting incident is merely one aspect of Chinese brutality in Tibet, and it is a matter of great attention to study many more incidents which are left undocumented. 
The Talk series concluded with souvenirs handed to the speakers as a token of appreciation.