The Tibet Museum's Photo Exhibition on the Legacy of 10th Panchen Lama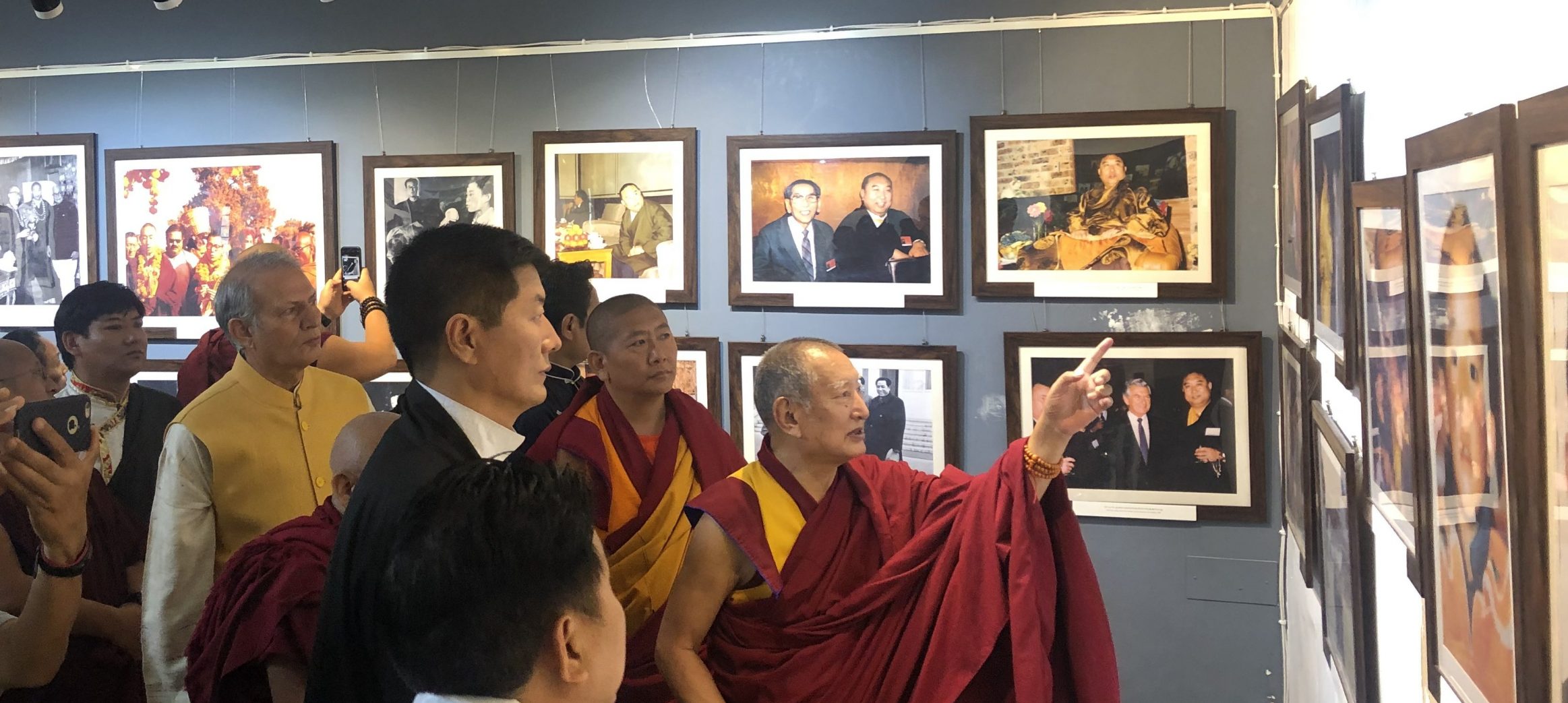 Kasur Kirti Rinpoche, Ngachen Rinpoche and Sikyong Lobsang Singye Going through the Photo Gallery
On April 25, 2019, The Tibet Museum commemorated the 30th birth anniversary of 11th Panchen Lama, Gedhun Choekyi Nyima by exhibiting the important events proceeded by his eminence. His eminence Panchen Lama is the second most important religious figure of Tibet after His Holiness the Dalai Lama and contributed numerous positive impact in Tibetan history.
The photo exhibition installed in the temporary section of the Tibet Museum was inaugurated by Ngachen Rinpoche by lighting butter lamp in the presence of Kasur Kirti Lobsang Tenzin Rinpoche, Sikyong Lobsang Singye, the president of Indo-Tibetan friendship Ajay Singh Mangotia, ministers and staffs of Central Tibetan Administration.
The photo gallery demonstrated the important events procured by the 10th Panchen Lama. It  was marked as a tribute to the 10th Panchen Lama and also to acknowledge the current 11th Panchen Lama who as the youngest prisoner was seized by the Chinese authority at the age of 6 and currently unaware of his whereabouts.
The photo gallery began with an introduction panel followed by important events like His Holiness the 14th Dalai Lama and his eminence 10th Panchen Lama meeting General Mao in Beijing in 1954. The photos of his visit to India in 1956, Australia in 1986 and other to Nepal and Japan were also displayed. There were also the pictures of his eminence led through the struggle session by Communist members during the height of Cultural Revolution in Tibet in August 1964 and also of his imprisonment in 1968 for two years. In the end of the photo gallery there were two photos of Gedhun Choekyi Nyima at the age of 6, when he was recognized by His Holiness the 14th Dalai Lama as the 11th Panchen Lama and the other presenting the skeptical forensic image of his current feature.
Tashi Phuntsok, the Director of the Tibet Museum said "the sole objective of this exhibition is to introduce the legacy of the 10th Panchen Lama and to recall his struggle to bring progress in Tibet both culturally and politically. Also it was installed to celebrate the 30th birthday of 11th Panchen Lama and to globally aware the current status of him being the youngest prisoner in the world."
~Reported by Kunga Choedon