Tibet Museum Commemorates 46th International Museum Day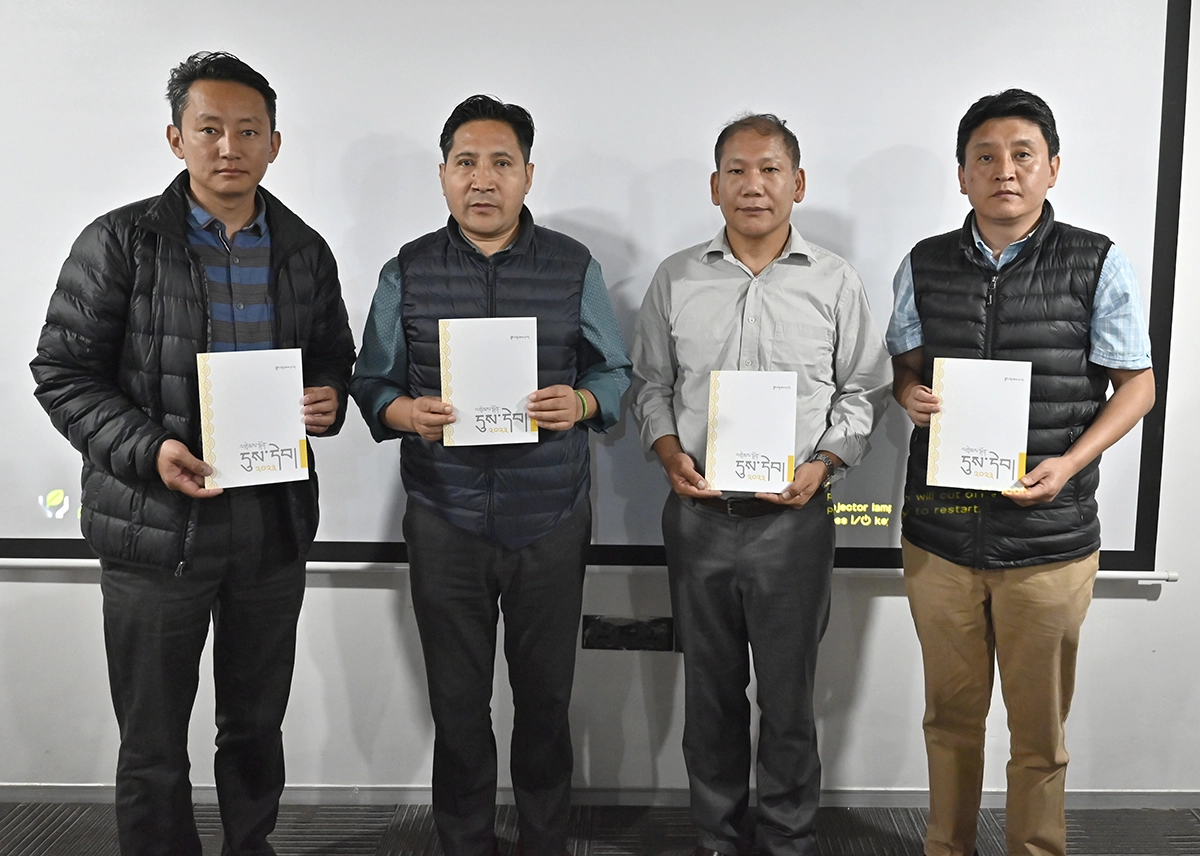 Book launch by the distinguished guests. Photo/Tenzin Phende/CTA.
Dharamshala: The Tibet Museum of Central Tibetan Administration joins museums across the globe in the commemoration of the 46th International Museum Day. International Museum Day is observed annually on 18 May to advance museum as a crucial cultural institution.
This year's theme of the International Museum Day edition is "Museums, Sustainability, and Well-being" which underscores museums as vital institutional forces in the promotion of sustainable development within communities as the world deals with global challenges such as climate change, mental health and social inequality etc.
On this occasion today, the Tibet Museum organised a day-long program comprising a book launch, a talk on environmental issues, a free-of-cost tour of the Tibet Museum including nearby prominent Tibetan institutes and a screening of short documents on the global significance of Tibet's environment.
A brief inaugural ceremony was held this morning at the Tibet Museum which was attended by DIIR Secretary Karma Choeying, DIIR Additional Secretary Tenzin Lekshay, Additional Secretary Namgyal Tsewang, and representatives of prominent Tibetan institutions in Dharamshala. The Tibet Museum also invited inmates of Kunphen Recovery Center as special guests for this year's celebration.
Secretary Choeying spoke on the importance and purpose of the Tibet Museum as an intrinsic cultural and educational institution that not only promotes Tibetan culture and national identity but serves as a catalyst for the sustenance of the Tibetan struggle.
He lauded the efforts of the staff at Tibet Museum and likewise the funders for empowering the institution to achieve global standards in a short period of time.
Curator and conservator Tenzin Jinpa presented a PowerPoint overview of the projects accomplished by the museum and highlighted three primary objectives of celebrating the event namely to foster collaborations and alliance among Tibetan museums around Dhramashala, to raise awareness about Tibetan history and culture in the Tibetan community as well global community and to promote Tibet museum as a vital educational institution.
Recognising the growing participation of the global museum community in the International Museum Day celebration, the Tibet Museum, since 2016, launched an annual celebration of the day with activities in keeping with the annual theme.